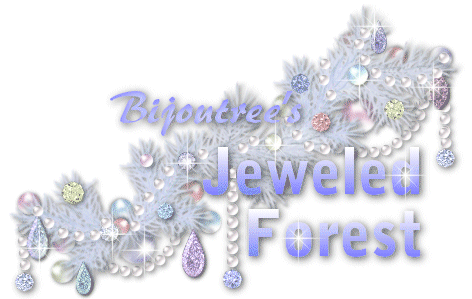 Where Every Day's a Holiday!

CHILL OUT DURING THE LOG DAYS OF AUGUST!
IT'S TIME FOR THE FIRST NEW CLUB CHRISTMAS TREE -- AND IT'S FABULOUS!
CLICK EMAIL TO PLACE ORDERS
GET THE GUIDE TO TREES! Christmas Tree Pins Book With Cover Brooch! (see below)
Pay Pal or Credit Cards Accepted
SEE FULL-SIZE IMAGES BELOW BY CLICKING THE WORD PHOTO IN DESCRIPTIONS OF TREES.
PAY-LATER OPTION AVAILABLE AT BOTTOM OF PAGE
DO NOT MISS THE CHRISTMAS PIN VIDEOS! (REALLY!)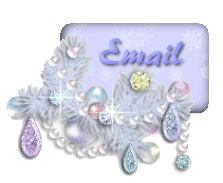 TO Order or SEND Email: Admin@christmastreepins.com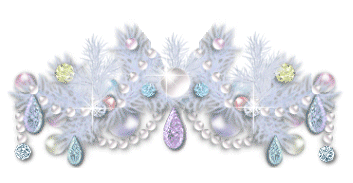 Click the Snow Jewel for Holiday Music While You Shop.
(Oh, go ahead. Don't be a Grinch!)
Order or Email: Admin@christmastreepins.com
THE 2015 CLUB CHRISTMAS TREE PIN! (PHOTO) Oh ... my ... nog! One of THE most spectacular Christmas tree pins ever made. Art-Nouveau shaped cherry-red-lollipop Lucite set amid the most glittering pave stones, creating a dazzling field for fruit salad, square cuts, black deco navettes, ruby baguettes ... it has it ALL -- not to mention the most fabulous trunk ever: a multifaceted tapered baguette in golden AB crystal so cut it almost looks quilted. This rare beauty, more breathtaking by far in person than in pix, stands 2-5/8". Christmas club members price, $159 (or $295). Four months till Christmas!


THE 1ST CHRISTMAS TREE PINS 2015 ENGAGEMENTS CALENDAR DIARY (PHOTO) (PHOTO) Keep track of upcoming goings-on (and remember the past!) with an engagements book calendar featuring holiday arbors. It's still 2015! $29.99 or $35.99 (check vs. PP or cc). Pair it with the big limited-edition Cristmas tree pins book for a total of $124 shipped.)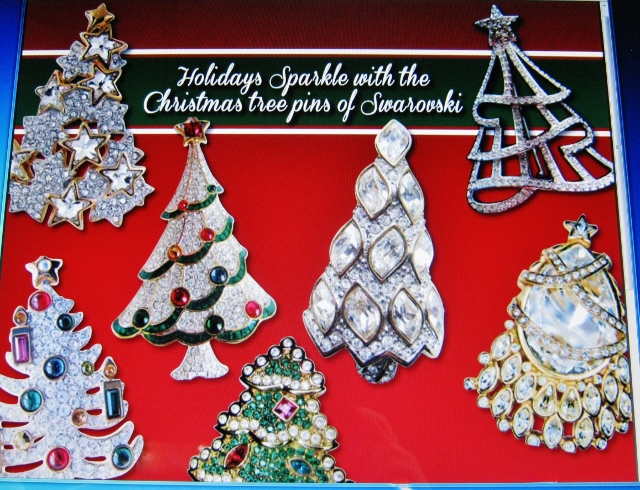 BIG CHRISTMAS TREE PINS BOOK ...WITH TREE! BEAUTIFUL GIFT CARD AVAILABLE (PHOTO) (PHOTO) Exciting, limited-edition 275-page book covering signed Christmas tree pins, the first of two on signed brooches, includes a Christmas tree pin from the book's cover; $165 to $295, depending on tree chosen. Don't miss it! Tons of information ... and trees! Also available: give someone all four books featuring Christmas tree pins! $195


HTF LIANNA FUCHSIA CHRISTMAS TREE PIN (PHOTO) Purists might call it Schiap pink or hot pink; $95 (also have a smaller 2-5/8" unsigned version, also Lia, for $69)


BLAIR DELMONICO CHRISTMAS TREE PIN + GIFT + BOOK (PHOTO) Pair of gorgeous, rare holiday brooches by the late Blair Delmonico, from 2004; tree featured in accompanying book; $295


Vintage NINA RICCI Christmas Tree Pin (PHOTO) Large, golden-plated vintage Christmas tree pin engraved with the logos and marks of Nina Ricci; 2-5/8"; rare! $229 (vintage, from old stock, shows age) NOTE: purchased old store stock in France; a few have dark logos, others have engraving w/o black lettering. (Either tree looks GREAT on black!)


HATTIE CARNEGIE EMERALD-RUBY CHRISTMAS TREE PIN (PHOTO) (PHOTO) (PHOTO) (PHOTO) An old model of the era was plated and fully beaded with ruby or pearl and emerald glass beads; $195


DECO CHRISTMAS TREE PINS (PHOTO) (PHOTO) (PHOTO) (PHOTO) An array of arbors in the 'Modern Style' $195-295


ART DECO 'SHOEBUTTONS' CHRISTMAS TREE PIN (PHOTO) Superb and rare tree, signed, on cover of signed-Christmas tree pins book; $195. Never miss a book cover piece!


THUNDERBIRD Christmas Tree Pin (CLICK THIS PHOTO LINK) (PHOTO 2) (PHOTO 3) (PHOTO 4) (PHOTO 5) (PHOTO 5) (PHOTO 5) (PHOTO 5) (PHOTO 5) (PHOTO 5) Designed and cast in the 1940s, a rare Christmas tree that combines Art Deco, Navajo and Egyptian aesthetics, signed with imposssible-to-score mark for the renowned jewelry designer who created it; finished in silver or gold, slightly over 2-1/2", $149 each.


ZUZU'S OLD-FASHIONED IT'S A WONDERFUL LIFE ANGEL BELL CHRISTMAS TREE PIN (PHOTO) (PHOTO) Limited-edition keepsake in the spirit of George Bailey's Bedford Falls. Engraved with the autograph of Zuzu herself, the actress Karolyn Grimes. (See her wearing this tree in image with this listing.) It's an old-fashioned bell tree, a special gift for someone who has touched so many lives and not realized it. In the last scene of the iconic holiday movie, when a bell on the Baileys' Christmas tree rings, Zuzu tells her father teacher says 'every time a bell rings, an angel gets his wings.' George Bailey knows Clarence won them for teaching him the movie's ultimate lesson, that one person's life touches so many others, and when you realize that, you see no matter what's happened, it's really been a wonderful life. Whether your favorite character from this most-loved of all Christmas films is Zuzu, George, Clarence, Mary (or surely not Mr. Potter), this collectible treasure keeps the memories and message of the movie alive for generations to come. Only 100 were made; jeweled and enameled brooch in festive green and red; 2-3/4"; it was Made in America; $149


WEISS CHRISTMAS TREE PIN + BONUS WEISS (PHOTO) Glittering flatback stones on a vintage Weiss Christmas tree pin by Beatrix, plus vintage bells and holly by Beatrix for Weiss, $149 the pair


STUNNING BOMBEE Christmas Tree Pin (PHOTO)


AND A PARTRIDGE IN A PEAR CHRISTMAS TREE PIN (PHOTO) Fond of the tune and the fruit? We have a selection of vintage birds in pear trees for you; $95


ANOTHER WEISS VINTAGE BEAUTY CHRISTMAS TREE PIN (PHOTO) Authentic vintage, on original Weiss card (and signed); $195 (Please note: lowest center ruby-red jewel is not original to the tree)


FIERY CHRISTMAS TREE PIN (PHOTO) This gemmy pine looks like it lights up when sunlight hits it; red-orange jewels; $125



JEWELED CHRISTMAS TREE PIN (PHOTO) Delicious jeweled pine pin in a rich peridot; $125


LEA STEIN PARIS BLUE FRENCH CHRISTMAS TREE PIN (PHOTO) Layered French plastic by a big name in figural jewelry; $125


COSTUME VERSION OF FAMED MADAME BELPERRON CHRISTMAS TREE PIN (PHOTO) Gorgeous in green, with its Oriental flavor and mix of Deco-Nouveau styles; $179


STUNNING EISENBERG ICE BRAKE-LIGHTS TREE PIN (PHOTO) Deluxe, diamond-patterned diva from Eisenberg; $149


SWAROVSKI RUFFLED CHRISTMAS TREE PIN (PHOTO) The Radiant Ruffles tree, vibrant watermelon-fuchsia rarity, a major wow by the swoony swan company, its date unknown; $395


Oriental SS CZ Marcasites CHRISTMAS TREE PIN (PHOTO) Sterling silver tree with marcasites and cubic zirconium ornament jewels; $149


Vintage GLASS CHRISTMAS TREE PIN (PHOTO) Why aren't there more of these around? Only one I've ever seen. Features colorful applied red rose. Unsigned, 2-1/2"; $95


KENDALL-MARCUS MILLENNIUM CHRISTMAS TREE PIN (PHOTO) Super-rare 2000 tree by Marge Borofsky when she was at K&M.; $150


HERSHEY'S KISS CHRISTMAS TREE PIN IN OLD-FASHIONED TIN + 2ND TREE BONUS (PHOTO) (PHOTO) Darling holiday tin box holds a Hershey's Chocolate Kiss Christmas tree pin with Kiss earrings and a second Hershey's holiday pin; $95


AUSTRIAN CHRISTMAS TREE PIN (PHOTO) Vintage metallic-teal green tree with purple briolettes. (One missing from open branch tip, as is often the case) $95

HOLD ON FOR A CHRISTMAS PIN VIDEO!



DAVID WRIGHT SHEETMETAL CHRISTMAS TREE PIN (PHOTO) Funky sheetmetal holiday pin by artist David Wright, unsigned but on original Wright Designs card; $89

ENJOY ANOTHER CHRISTMAS TREE PIN VIDEO! XMAS VIDEO III: Snow & Ice: Sit back, sip a sap on the rocks, enjoy the movie. (Frost 'effect' washed out vivid colors a bit. Bah humbug.)


ONE OF THE BEST EISENBERG CHRISTMAS TREE PINS (2 COLORS) (PHOTO) Hmm, purp or ruby? I'll take both! $149 ea.


RARE RARE NIGHTMARE BEFORE CHRISTMAS TREE PIN (PHOTO) Rarest of the Disney Christmas tree pins, the sought-after and impossible to find NBC tree. That's the enameled Nightmare Before Christmas brooch with spooky ornaments including Jack Skellington and spider, bat and something else. Signed both Disney and Ooopsa. Timed out with 1993 release of the Tim Burton flick, but not many people found this particular line of jewelry. Has a crack in yellow enamel but not in star itself; $159


HILLARY CLINTON Christmas Tree Pin (PHOTO) Golden light-up tree Hillary Clinton loved and wore when she was First Lady, 1994 (note: this is not hers literally; it is the same she wore); $59.


PASTELS SWEET ROMANCE CHRISTMAS TREE PIN (PHOTO) Signed tree with jewels and web-work setting, handsome and pretty both; $89


TREE OF STARS (PHOTO) A heaven of starlight shines down through the night ... Tree of green stars $39


SPARKLING BLOOMINGDALE'S CHRISTMAS TREE PIN (PHOTO) Heavily jeweled arbor that has aged since the Eighties; $149


FREEMASON CHRISTMAS TREE PIN (PHOTO) Novelty tree with the protractor and compass as ornaments; tac pin. $59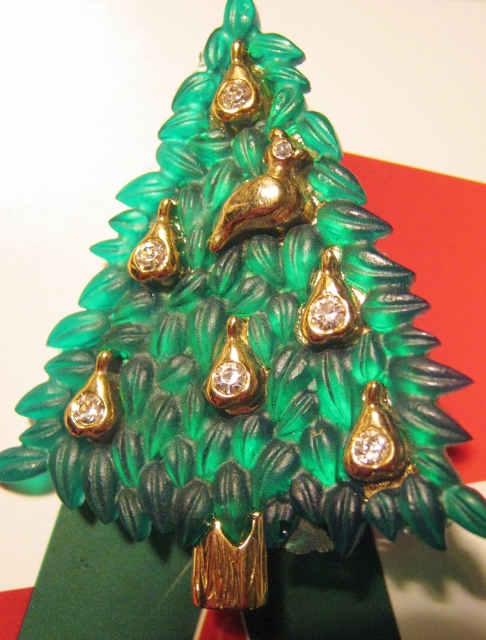 RARE PARTRIDGE-IN-PEAR-TREE Christmas Tree Pin (PHOTO) For the collector of charming old-fashioned 'and a partridge in a pear tree' pins, here is a rare one that was produced by the house of Lianna, gold plated bird and pears overlaid with green plastic tree form. Fabulous! $95.


GIVENCHY CHRISTMAS TREE PIN (PHOTO) A must for anyone after every signature in the whole wide forest, $149


JEWELS CHRISTMAS TREE PIN (PHOTO) Sparkling jewels Christmas tree pin for a more glittering collection, $79


SWAROVSKI STARDUST CHRISTMAS TREE PIN (PHOTO) Sold out in 2011, simply sparkling on a lapel, the swan-signed Stardust Christmas tree pin, $129


SHAMROCK CHRISTMAS TREE PIN (PHOTO) Green tree has shamrock star and lights up, $59


VINTAGE SIGNED COREL CHRISTMAS DOG PIN (PHOTO) Hard to find holiday pooch, $89


VEGAS SHOWGIRL CHRISTMAS TREE PIN (PHOTO) Fantastic vintage set, sometimes called the harp tree, looks more like a Vegas showgirl with elaborate headdress; jewels, tall, plus signed; $125


VINTAGE BROOKS CHRISTMAS TREE PIN (PHOTO) Brooks' other tree of renown, gorgeous, signed, tall, bejeweled; $89


MEXICAN SILVER CHRISTMAS TREE PENDANT (PHOTO) Enameled polka dots color this Mexican silver Christmas tree pendant, $59


FLAG CHRISTMAS TREE PIN (PHOTO) Patriotic Christmas tree pin, $59


PATRIOTIC CHRISTMAS TREE PIN (PHOTO) Christmas tree in flag colors, $59


Vivid Red French LEA STEIN PARIS Christmas Tree Pin (PHOTO) Layered cellulose acetate, glossy, multicolor Christmas brooch (see other colors farther down page), multiple patterns with a polychrome star, signed Lea Stein Paris, 3-1/2"; $149


OTHER JEWELRY BOOKS WITH Christmas Tree Pins, Faces, Etc. (PHOTO) (PHOTO) (PHOTO) (PHOTO) Buy a bijoux book with a Christmas tree pin for the ultimate holiday gift. Books here include one on figural jewelry, with tons of trees, one on unsigned trees, or one covering face jewelry, and one with fine and costume jewelry, including trees. Each autographed by author and personalized if you want it to be. Your choice, $49.


SMALL BARBER-POLE Christmas Tree Pin (PHOTO) Wonderful little tree with pave-set stones, $59.


CLASSY Christmas Tree Pin (PHOTO) Simple holiday arbor with tons of character, $59.


MICHAL NEGRIN Christmas Tree Pin (PHOTO) Unsigned arbor that's very neat and chic, $79.



EXCHANGES ONLY

PLUS: MORE TREES, PLUS VINTAGE NON CHRISTMAS JEWELRY, ANTIQUES, BOOKS, HOLIDAY GIFTS ...